Welcome To The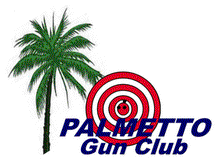 Charleston, South Carolina
Call 1-843-900-4PGC (1-843-900-4742)




The Palmetto Gun Club, Inc. is a multi discipline private shooting sports club, dedicated to providing our membership with a first rate and safe shooting facility. We are proud to be the host of several state championship matches as well as regional championship matches. Our Facility is second to none. Stay a while and enjoy our Southern Hospitality.







MAG 20 ENROLLMENT NOTICE


PALMETTO GUN CLUB IS HOSTING Massad Ayoob's presentation of the MAG-20 Classroom Armed Citizen's Rules of Engagement
JANUARY 27-28, 2018
Click Here for all the enrollment information in the Members Only Area.







MEMBERS ONLY AREA
Club Newsletters, Meeting Minutes & Agendas
Links to Update Member & NRA Membership Information
Workday Credits/Fees/Guidelines, PGC Motions & Status
PGC Classes & Courses
Members Only Information